Deschooling is the first step when you're starting your homeschooling journey. It's best if you deschool your children before homeschooling them. The process of deschooling is fun and bonds you and your children closer together so that when you start academics, you're not at logger-heads, but rather, you're friends.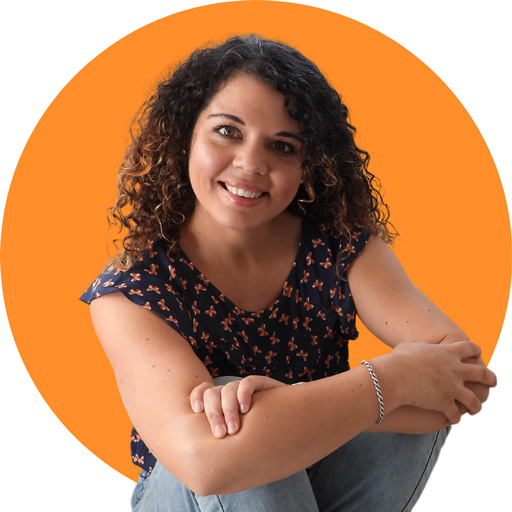 I hope you enjoy reading this blog post. If you want to do my course on how to homeschool, click here.
In this article, we're going to talk about:
The deschooling definition and its meaning
Some benefits of deinstitutionalizing children
The deschooling process and examples of it
Ideas, tips, and activities to do 
How long to deschool for
Is deschooling necessary?
The book Deschooling Society Ivan Illich wrote (a summary)
The difference between deschooling and unschooling?
Let's dive in and get started!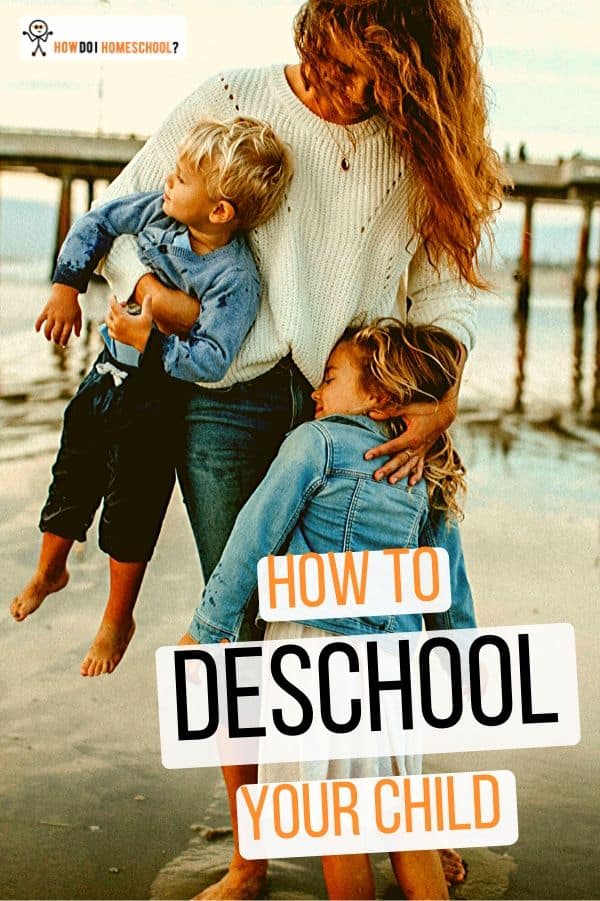 The Definition of Deschooling
Deschooling is simply the process of trying to deinstitutionalize yourself (or your homeschoolers/unschoolers) from the institutionalized mindset that comes from school.
When you deschool someone, you let them have a period in which they can adjust themselves to no longer being institutionalized.
When we go to school, we have to follow many rules about learning. These rules are necessary to create order in large classrooms of 30 students.
Unfortunately, many of these rules also curb a student's natural curiosity and interest in a subject.
Deschooling helps children revert to their natural curiosity and enjoy learning through things that interest them instead of learning the way the institutions want them to learn.
Two Definitions of Deschooling
In a nutshell, deschooling refers to two processes, namely:
the end of institutional schools as the best way in a parents head (because schools are generally poor educational environments). Ivan Illich, the person who coined the term 'deschooling,' said the fact that we're in love with schools, despite their poor learning environment,  is evidence we're institutionalized and need to be deschooled ourselves). This is more of a concept.
the mental process a child goes through after being removed from an institutional school, whereby the school mindset is forgotten, and the child starts to learn in an unstructured way (that is, without being spoonfed by teachers). This is more of a practical activity.
We'll be referring to the second definition more when discussing deschooling in this article.
Some Deschooling Benefits
There are many advantages of deschooling your child, which will help them deal with the loss of school structure and embrace the less formal learning style that home learning brings. These advantages include:
children having time to discover their gifts and interests
students learning how to learn by themselves (and forgetting how to rely on a teacher for all learning and direction)
children having time to acknowledge their past life and mourn it and (hopefully) celebrate their new homeschooling life
children being able to directly deal with psychological or physical issues kids were dealing with at school
parents getting to know their children better and having time to get used to being in such close contact with them for so many hours each day
parents and children alike getting time to spend de-stressing after the stressful lifestyle that school often brings
students not needing to do formal work for a period so that they can relax during the deschooling period
parents having time to find a learning style and home education curriculum that works for them and their children and
teenagers can spend time thinking about the career they'd like after high school. This means they will be more motivated to study as they'll be doing it more purposefully!
children have more opportunities to explore entrepreneurial options instead of only heading down the college pathway.
If you take advantage of these benefits, you'll notice your homeschooling journey is a lot less stressful as you'll have your children more on board with your vision for their education.
During this time, you can build an educational vision together during the deschooling period and find an academic pathway that suits everyone.
But, Why is Deschooling Necessary?
Why do you need to deinstitutionalize children anyway? Won't it just happen naturally?
Some people believe we need to recognize the difference between our old way of learning (being taught) and our new way of learning (hopefully, learning how to learn and interest-based learning).
If we've only ever been educated in a school system, we need to deschool ourselves because we are (ourselves and our children) institutionalized.
Because there is so much momentum behind institutionalized schooling, we need to separate ourselves from it and look at the idea from afar. We need to let go of our 'school' mindset and develop something far richer, far deeper.
For some, deschooling will undoubtedly involve a bit of mourning over our old-school lives. This was the case for me when I started homeschooling.
The funny thing is that now I love homeschooling so much, and I felt like I always did.
But, I was shocked when my parents told me that when I started home educating, I went through a period of mourning and sadness as I left school. You might find something similar happening to your children.
How Long to Deschool
The more time you've spent in school, the more time you need to spend deschooling. The rule of thumb is to one month for every year a child has been in school.
So deschool:
You might question whether your teenage children will be able to catch up on their schoolwork if they're not studying for six months. Don't worry because they will be very excited to get back into learning after six months of deschooling.
This is because their vision for their education will be renewed, and they will (hopefully) be thinking about what they want to train for after they graduate high school.
Essentially, they'll have more purpose to the study they're doing after they've spent six months deschooling.
The Deschooling Process
The process of deschooling is more about doing nothing than doing something. You want to be using this time to relax and de-stress.
Keep in mind that the process is harder with teenagers as they're more institutionalized than younger children, and they need more time to carry out the process.
Be prepared for initial moodiness and sullenness. But, that's okay as you'll have time to overcome distempers and they won't stay moody forever.
Jeanne Faulconer from the Engaged Homeschooling blog says new home-educated students will be significantly affected by the process in the early days, months, and (possibly) years of homeschooling.
Examples in Action
What does deschooling look like in practice? Some of the best examples of the deschooling process are seen when families do really simple things together like:
relaxing and chatting in the backyard
going out to parks
doing nature walks and hiking
camping in scenic areas for a few days
baking cakes or making dinner and
planting a vegetable garden.
Don't do any formal homework while you deschool. Save this time for having fun together (and perhaps a little informal collateral learning)!
Also, keep in mind that you might have to make friends with your kids again otherwise, collaborating on curricula later will be difficult.
Activities to Do
Deschooling activities look like you're doing ordinary everyday tasks with your children…minus the schoolwork! Some activities (other than the ones in the examples above) include:
meal planning and allocating children a meal to cook together
asking children what they'd like to do and doing that
planning for holidays together
collaborating on the walking trail your family fancies
doing chores at home together. It's a great idea to make chores fun
going to the nursery and picking out flowers for your garden
planting indoor seedlings and nurturing them as they grow
playing board games together and
going for a picnic which your children have prepared
You get the idea…make it fun…make your children realize that this homeschooling thing might be more fun than they realized!
Deschooling Tips
If you want to make the deschooling process go smoothly, it's a good idea to keep these tips in mind:
give your children plenty of encouragement when you see them learning independently
be their number 1 cheerleader
when they 'fail' to make something (like a cake), encourage them by saying something like, 'You haven't failed, you've just successfully discovered another way NOT to make a cake.' (Thanks, Thomas Edison.)
make yourself their best friend and confidant…this will also come in handy when they're considering dodgy boyfriend potentials in their later teen years…
make an effort to connect with them more. Here's a 50 things you can do to connect with kids.
If you follow these tips, you should find your children react and slowly start coming on board with your vision for their education.
Pushback when Deschooling Teenagers
When you're trying to deschool a high school teenager, you might be in store for some unpleasantness.
So, don't be surprised when you notice some moodiness or angst in your children. This might look like they're:
sullen and unhappy (even if they wanted to homeschool)
confused over what to do next (as they've had their day planned for so long)
aimless and lost
indignant as they're thinking about how they will be labeled 'weird homeschoolers' from now on. (This means they might be hesitant about making friends with other home-educated students.)
panicked as they're not doing tests and exams and think they're falling behind when there's really nothing to worry about
anxious as they may worry that if they're home educated, they won't be able to find a job or go to college or
apathetic and don't want to do anything.
Teenagers may need time to get used to spending all day with their parents and doing things differently. They may find it strange that they're now on the same side as their teacher!
Deschooling and Unschooling: What's the Difference?
Conclusion