Time4Learning is an online homeschool curriculum that can be a good fit for families who are looking for an alternative to traditional schooling. It is important to read through reviews of any curriculum before making a final decision, and this Time4Learning review will provide an overview of what the program entails.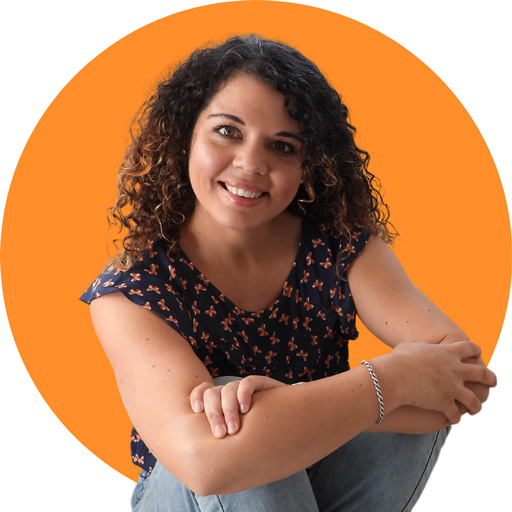 I hope you enjoy reading this blog post. If you want to do my course on how to homeschool, click here.
It can be hard to decide what curriculum is best for your homeschooled child. You want to make sure you are choosing something that will engage and challenge them, while also providing the structure and support they need to excel.
Before you jump into a new curriculum, it can be nice to get an insider's point of view on what the curriculum is really like. And whether it's worth investing your time and money into.
That's why I've put together this review of Time 4 Learning. After using this curriculum with two of my children, I'm sharing all the details of what we liked and didn't like about it.
Let's dive in!

Affiliate links used in this post. 
Time 4 Learning Curriculum Review
Time 4 Learning is an online homeschool curriculum that's been around since 2004. They offer self-paced courses you can access anywhere with an internet connection.
Time 4 Learning offers over 3,500+ lessons on a variety of subjects. They also offer tests, games, and activities to keep your children engaged and learning.
The courses are animated lessons for younger grades and move into more lecture-style lessons for older grades.
Courses offered
Time 4 Learning offers courses for PreK through to high school. This makes it an excellent solution if you're looking for something your child can use consistently for each grade.
They offer courses on the main subjects across all grades as well as several electives. Once you start getting up into middle and high school, you have individual courses you can choose from for certain subjects. 
For PreK-5th grade, they offer the main subjects:
Math
Language Arts
Science
Social Studies
For middle school, they offer all the same main subjects, but you do have a few more options to choose from for science and social studies:
Math
Language Arts
Science: Life Science, Earth Science, Physical Science
Social Studies: World History, Ancient World History, World Cultures & Geography, Civics, US History
For high school, they offer even more courses to choose from:
Language Arts
Math: Algebra I, Geometry, Algebra II, Pre-Calculus, Trigonometry
Science: Biology, Chemistry, Physics
Social Studies: US History I, US History II, World History, US Government
They also offer 15 electives for high school students:
Economics
Environmental Science
Psychology
Personal Finance
Sociology
Intro to Communications & Speech
Art History I
Concepts in Probability & Statistics
Intro to Art
Computer Applications – Office 2019
Contemporary Health
Foundations of Personal Wellness
Lifetime Fitness
Strategies for Academic Success
Healthy Living
Time 4 Learning also offers additional foreign language courses called Time4Languages that you can add to your membership. Here are the languages they offer:
Spanish
French
Latin
Chinese (Mandarin)
English (American)
German
Italian
Japanese
Russian
Hebrew
How much is Time 4 Learning?
Time 4 Learning has two different prices depending on the age of your child. For PreK-8th grade, it costs $24.95 a month. If you want to add additional students to your membership, it's an additional $14.95 a month for each child.
For high school students, 9th-12th grade, it costs $34.95 a month. They don't offer any discounts for registering multiple high school students for high school.
The Time4Languages courses cost an additional $59.95 per student for 1 additional language. You get 6 months of access to the language course.
The language courses are only available to current Time 4 Learning members.
What's included with your purchase
When you sign up, your child gets access to their dashboard, where they can access subjects that you, the parent, have assigned.
You can assign any of the subjects available for the grade you chose for your child. They also offer adjustable grade levels, so you can assign a grade level below or above your child's assigned grade if needed.
Your membership also includes automated grading and reporting, so you never have to worry about going back and checking your child's work. You also don't have to worry about lessons, because they are pre-planned for you. 
They also have a convenient Curriculum Calculator and Activity Planner so you can add in breaks during the school year, and the lesson plan will automatically adjust.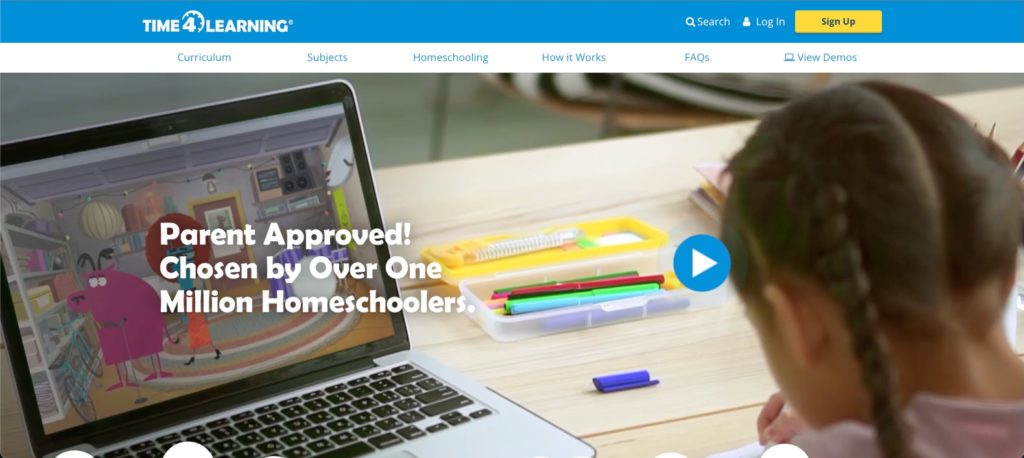 How Does Time 4 Learning Work?
Time 4 Learning works pretty similarly to most online homeschool curriculums. Your student logs into their dashboard and starts working on the assigned lesson.
I used this program with both of my daughters when they were in preschool and 2nd grade.
Both kids could easily access their lessons with very little help from me.
Once they started a lesson, it would play and prompt them with their next steps to complete the lesson. As the parent, I had to do zero teaching or planning.
All we had to do was log in and start learning.
Pros of Time 4 Learning
Time 4 Learning has been around for a long time, so they've been able to put together a pretty organized and cohesive curriculum. Here are some of the things that they do well.
No planning or grading required
One of the biggest benefits of using Time 4 Learning is its very low involvement for the parents. Once you sign your child up and get them registered, your child is good to go.
The lessons' pace, scope, and structure are all already done. And you don't even have to worry about grading.
If you're a parent who is struggling to get around to grading schoolwork, I think this is a huge benefit. Especially for working homeschool parents or those who have a lot going on.
This was one of the things that convinced me to give Time 4 Learning a try. I started using it because I had just had my 3rd baby, and I needed something that helped us continue with our schoolwork while letting me spend most of my day taking care of a newborn.
Cohesive program
Another benefit to using Time 4 Learning is that they offer courses for preschool through to high school grades. So you don't have to worry about hunting around for a new curriculum if you find it's a good fit for your family.
I've had more than one occasion where my oldest daughter " grew out" of a curriculum we both loved. She worked through the highest level, and I was stuck trying to find something that aligned with the same learning path and standards the previous one did while also matching up with her learning style.
Or I've had the opposite problem where I'm using one curriculum with my oldest daughter that I think my younger kids would love, but they don't offer it for the younger grades. So then I had to hunt around to try and find another curriculum to use in the meantime that will hopefully match up to the one I want them to do in the future.
With Time 4 Learning none of that is a problem because they offer courses for every grade. So you can easily transition to the next grade and know that all the learning standards and educational paths will line up.
Affordable
Time 4 Learning is pretty affordable homeschool curriculum, especially for an online curriculum. Especially one that offers high school courses.
Online curricula can sometimes get pretty pricey, so it's definitely a benefit that Time 4 Learning doesn't charge an arm and a leg.
And if you have more than one child enrolled, they offer a discount. Some add-on features do cost a bit more, but they're not necessary to use the program.
Can access it anywhere?
Another nice benefit of Time 4 Learning is that you can access it anywhere. All you need is an internet connection and a computer.
This is great for families traveling or homeschooling on the road. You don't have to worry about having to lug around a lot of books or workbooks.
Time 4 Learning does have worksheets and printable pages that accompany lessons, but they're easy to access and print from the website.
Access to multiple grades and course levels
Another feature I appreciate about Time 4 Learning is that you can access multiple grades and course levels for your student. Some children excel more in one subject than another.
With Time 4 Learning you can continue to let your child work on each subject at the level that works best for them. With a child who excels at reading and writing but struggles with math, I love a curriculum that lets her progress at her own pace with each subject.
Easy to pause or cancel your membership
The last feature that I really like about Time 4 Learning is how easy it is to pause or cancel your membership. This is something I look for in almost every curriculum I try.
Sometimes my kids get bored with their curriculum, need a change of pace, or get stuck on a learning concept, and we need to pause for a while. I like that Time 4 Learning makes that easy to do.
I don't feel pressured to push and fight through the curriculum just because I've already paid for it.

Who would Time 4 Learning be a good fit for?
Here are the families who I think would get the most out of Time 4 Learning:
Busy parents: If you don't have time to sit down and teach every subject to your child, Time 4 Learning is a great choice. All the planning and teaching are done for you.
You might have to help with the occasional question or problem, but your child will be able to do a large portion of the work independently.
High school students: If you have a high schooler at home and you're at all anxious about teaching classes you barely passed yourself, Time 4 Learning is a great choice.
They offer all the courses most states require for high school students. And you, the parent, don't have to worry about teaching any of it.
Roadschoolers: If your family travels a lot while homeschooling, I think this curriculum would be a good choice. You can easily access all the courses online and don't have to worry about keeping up with any extra materials.
You're comfortable with a secular curriculum: If you prefer a secular curriculum and want to teach your religious values yourself, then this curriculum is a good choice.
Your child is a visual learner: Especially for PreK-5th grade, Time 4 Learning is a good choice for visual learners. They use animated lessons and activities to help teach the courses that work well to engage visual learners.
Cons of Time 4 Learning
Like plenty of other programs out there, Time 4 Learning isn't perfect. My daughters were pretty happy with it for several months, but we did end up moving on to other programs eventually.
Here are a few drawbacks:
Not accredited
One of the major drawbacks of Time 4 Learning is that it's not accredited. This is something that can be a bit of a deal breaker for some families.
High school students and families tend to strongly consider accreditation when choosing a curriculum. Accredited courses offer more reassurance for families that the program meets certain learning standards.
This can be something families might look for, especially if their child plans to attend college and they want to be sure they will be accepted and able to handle the coursework.
Now, accreditation doesn't guarantee the quality of a curriculum and there are plenty of fabulous high-quality curricula out there that aren't accredited. But having that extra stamp of approval from an accrediting agency can often provide a little more peace of mind about what your child will be learning.
No transcripts
Another drawback of using Time 4 Learning is that they don't provide transcripts. This is also another feature that can be really nice for high school students. Especially as they prepare to apply to colleges.
Because Time 4 Learning provides a curriculum, not actual teachers or instruction, they don't provide transcripts. You, the parent, are still considered the teacher and required to create your own.
There are plenty of templates where you can easily create your own transcripts. But, depending on your child's plans for after high school, using a program that provides this service might be something you want to consider.
Too political
A drawback I've heard more about in recent years is that some of the curriculum and lessons with Time 4 Learning have become a little too political. This wasn't something I personally experienced, but it's starting to become more of a concern for some families.
It doesn't seem to be a problem for all of the courses I think it would be easy to skip some that might not align with your family's point of view. But it still makes plenty of families uncomfortable navigating topics presented from a point of view they might disagree with.
Glitches and interface problems
The other drawback I've seen other people mention is that the interface can have problems and glitches. This can be a frustrating issue for both parents and students.
Because Time 4 Learning is entirely online, technical problems that make it hard for your child to complete their schoolwork can become a big issue. Especially if it puts your child behind on their lessons or schedule.
I personally didn't have too many problems with the interface, but I did hear other people mention it frequently enough that it's worth mentioning here.
Time 4 Learning vs Power Homeschool
Another similar online homeschool program that is worth comparing to Time 4 Learning is Power Homeschool. Power Homeschool is the homeschool version of Acellus Academy.
Students watch video courses and lessons similar to Time 4 Learning. Both programs offer courses for grades PreK-12.
They both offer lessons for all grades in the main subjects of Math, Science, Language Arts, and Social Studies.
Power Homeschool offers a flat rate membership of $25 per month for each student. This is the same price as Time 4 Learning for PreK-8th grade, but they are a little cheaper for high school students.
Key Differences
Here are some of the key differences between Time 4 Learning and Power Homeschool:
Time 4 Learning offers a more robust preschool curriculum.
Power Homeschool offers foreign language electives with their regular membership. However, Time 4 Learning offers more languages with its program.
Power Homeschool offers more electives across all grades.
Time 4 Learning's animated lessons for the younger grades are a little more fun and engaging.
This program offers a discount for additional students in Prek-8th grade. Power Homeschool does not.
Time 4 Learning vs Acellus Academy
Another program that is worth comparing to Time4Learning is Acellus Academy. Acellus Academy is the accredited version of Power Homeschool.
Unlike Time 4 Learning and Power Homeschool, it's not a homeschool curriculum but an accredited online school. Your child enrolls with their school and has a teacher who oversees their work.
Tuition for Acellus Academy starts at $249 a month or $2,000 a year with their Basic membership. The Enhanced and Premium memberships offer additional perks like career guidance counseling, lessons available in high-definition, and social clubs.
Key Differences
Acellus uses the same videos and courses that Power Homeschool does, so they have some of the same differences:
Time 4 Learning's animated lessons for the younger grades are a little more fun and engaging.
Acellus Academy offers more electives across all grades.
Acellus Academy is accredited and has teachers who oversee your child's schoolwork.
Acellus Academy is considerably more expensive.
Acellus Academy offers more of the public school experience with things like social clubs, transcripts, and an accredited diploma.
Time 4 Learning vs K12
Another program Time 4 Learning is often compared to is K12. K12 is a program that offers two different options: a tuition-free online public school and a tuition-based online school and courses.
Both options are similar to more traditional schools in that they provide teachers to oversee your child's schoolwork, serve grades K-12, meet state requirements for curriculum and assessments, and provide a high school diploma.
K12's tuition-free online public school follows the traditional school year. Their tuition-based online school is fully accredited and has multiple start dates with full and part-time options.
Tuition costs vary depending on which of K12's private schools you choose. You can also purchase individual courses from K12.
Key Differences
Here are some key differences between both programs:
Time 4 Learning is a homeschool curriculum. K12 offers online public or private schools.
K12 offers accreditation and high school diplomas.
With Time4Learning, you are the teacher. With K12, the teacher does the instruction.
K12 offers more traditional school experiences like clubs, AP classes, and tutoring.
K12 offers dual enrollment for grades 9-12.
Time 4 Learning vs IXL
Another homeschool program similar to this one is IXL. IXL is an online curriculum for grades K-12.
They offer lessons and resources for all the main subjects, including Math, Language Arts, Science, and Social Studies.
IXL is called a curriculum, but it functions as more of a way to practice concepts. The program is made up of questions that your student works through.
There isn't much direct instruction. They do have the option to "Learn with an example" on problems that they might be struggling with, but that's it for teaching.
IXL charges $19.95 per month for their Core Subjects membership. This includes access to all core subjects across every grade level.
You can also add on Spanish for an extra $5 a month. This makes them considerably cheaper than Time 4 Learning if you're enrolling more than 1 student.
Key Differences
Here are some differences between Time 4 Learning and IXL:
IXL doesn't offer any elective courses.
Time 4 Learning provides video lessons and games. IXL offers more basic instruction with practice questions.
IXL only offers 1 foreign language. Time 4 Learning offers 10.
IXL is aligned with state standards for each state.
IXL offers access to every grade level with your membership, so you only need 1 per family.
Time 4 Learning FAQs
Still got some questions after reading through this Time 4 Learning review? Here are some common questions others have had about Time 4 Learning.
Is Time 4 Learning accredited?
No, Time 4 Learning is not accredited. It's a homeschool curriculum, but you the parent are responsible for actually teaching your child and making sure they understand the information.
Can I get a free trial of Time 4 Learning?
They don't offer a free trial, but they do offer a 14-day money-back guarantee. If you're unhappy with the program in the first 14 days, you can ask for a full refund.
Is Time 4 Learning a secular curriculum?
Yes, it is a secular curriculum. They teach the theory of evolution in their middle and high school science courses.
What kind of device can I use Time 4 Learning on?
Time 4 Learning works best on a computer, laptop, or Chromebook. It's possible to access some of the high school classes from a phone or tablet, but not the K-8 courses.
Is this a full curriculum?
Yes, Time 4 Learning is a complete homeschool curriculum. They cover all the main subjects as well as offer several electives for high school students.
Can you graduate from Time 4 Learning?
You can graduate from Time 4 Learning, but they don't offer diplomas or transcripts. It's up to you, the parent, to double-check if the courses taken with Time 4 Learning meet the graduation requirements for your state.
Once you've taken all the courses required, you can create your own transcripts and diploma.
How do I place my child?
To place your child, you'll pick the grade level that you think would be best for them. You can look through what's taught for the subjects for each course to help get an idea of what grade would suit your child best.
Time 4 Learning also allows you to access the course materials for each grade above and below the one your child is enrolled in. So if they are behind or ahead in a certain subject, they can still access the materials.
Is Time 4 Learning Good?
Honestly, it depends on what you're looking for in a curriculum. I found Time 4 Learning to be a great program for a time in my life when I needed my children to be able to homeschool independently.
But ultimately, we decided to move on to other curricula that more aligned with my homeschooling style and my children's learning styles.
If you're still unsure if Time 4 Learning is suitable for your family, I recommend taking advantage of their 14-day money-back guarantee. This way, you can try it out and see if it's a good fit without worrying about losing any money.
If you're new to homeschooling and want more help finding a curriculum that will work best for your family, check out the How to Homeschool Course!
It has short, engaging videos to help you pick the right curriculum that matches your child's needs. It also has tons of advice and resources from a veteran homeschool mom.
Get more details about the How to Homeschool Course here!
What are your thoughts on Time 4 Learning? Let me know in the comments below!