So let's start by chatting about homeschool curriculum in general, different types of curriculum programs you can get, curriculum mistakes and then we'll finish by going through a few popular curriculum programs.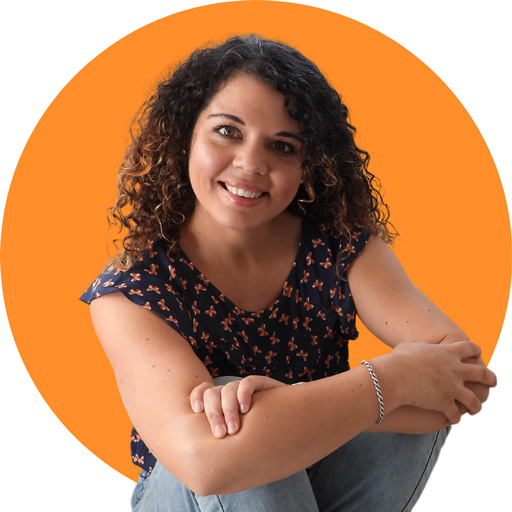 I hope you enjoy reading this blog post. If you want to do my course on how to homeschool, click here.
And if you stick with me all the way through to the end, I'll show you where you can find the BEST free homeschool curriculum around. So stick around.
But, first, let's start with what you can get when you buy a homeschool curriculum.
Affiliate links are included in this article.
Online vs Boxed Homeschool Curriculum
When considering homeschool curriculum, you need to decide how you feel about screens in your home. If you don't like them, then it's a good idea to go for a boxed curriculum.
Many companies produce boxed curriculum like BJU Press. BJU Press is a company I love and use myself! They'll send you a box full of curriculum with teaching manuals so you know how it all works.
But, if you like screen-time in your home you might also want to consider something that's online.
Schoolhouse Teachers is completely online and offers curriculum that is very affordable (they often have half-price sales)! If you want to do some offline stuff, you can print their lessons for offline use.
BTW, you'll love the video below on homeschool curriculum…it's very entertaining!
Mixed Lessons (Video Lessons PLUS Workbooks and Manipulatives)
And then you can also get something that is a mix between online and offline. BJU Press does mixed lessons. That is, you get a box in the mail, BUT also access to online lessons through the Homeschool Hub.
If you're a busy mom who doesn't have a lot of time to teach the material yourself, this is a great option.
I love the idea of online lessons as I'm not a fan of teachers manuals all the time. Some are easy to use, but some are clunky and require quite a bit of prep.
Books Included vs Not
Some curricula are expensive because they give you a lot of books that cost a lot of money to produce.
Sonlight is a curriculum that does this. It's quite costly compared to other programs like Schoolhouse Teachers…but that's because you get a bunch of books you can use with every child.
That means, if you re-use the books with subsequent children, the cost of Sonlight curriculum will decrease as you won't have to buy the books again!
So, think about what you get in the curriculum when you get it.
Expensive Homeschool Curriculum vs NOT Expensive
We touched on video lessons before, but I wanted to say that video lessons can be expensive. This is because you're outsourcing your teaching work to another company.
This gives you more time and it's easier for you. But, you pay for it.
Companies that offer video lessons like BJU Press and Abeka often give you accreditation, which is comforting for parents – especially when they're only planning on doing short term homeschooling to get over a bump or because you're doing a road trip for a few months.
Hands-On or Not
You also want to think about the hands-on elements in a curriculum. That is, many traditional programs don't have that much hands-on material to do.
A lot of the program is bookwork and requires children to sit at a table and work in a textbook. This will be okay for some kids, but won't suit your wiggle worms very well.
If you want something hands-on, go for a Charlotte Mason, Unit Studies, or Montessori curriculum. If you're not sure what these are, you can check out this video on the homeschool methods or read this article.
Support Options for Homeschool Curriculum
Let's chat about support options.
Expensive curriculum often come with useful support. That is, you can pick up the phone and talk to a real person about the homeschool issues you're having…especially with the curriculum.
This can be incredibly comforting for new homeschool parents who feel they need support – and need support at the time they're actually going through the issue!
Facebook groups
But, if you don't have money to buy an expensive curriculum with phone support, there are lots of useful Facebook groups where you can get help.
For example, the free curriculum, Easy Peasy All-in-One (we'll chat about this at the end of the video more!), has lots of Facebook groups. That is, wherever you are in the world, you can probably find other Easy Peasy homeschoolers within reach.
And a lot of free curriculum have support from other homeschool moms in Facebook groups.
But, really, it is a case of you get what you pay for and this is an advantage of using a paid curriculum.
If you want to know what's worth spending money on and what's not, make sure you do my homeschool course (called the Homeschool Parenting Program).
I can show you how to save a ton of money, where to find free resources, and how to have a homeschool that you love! So checkout the course.
Different Types of Curriculum Programs
Let's chat about the different types of curriculum programs you can get. Curricula are usually separated by what type of homeschool method they follow.
The main homeschool methods are:
I go through these method in my homeschool methods video, so I won't bore you by going through them all here again.
But, most homeschool curricula follow the traditional method, which is the method that is used in schools.
I think a big reason for this is that many of these curriculum providers also make curriculum for schools.
For example, Abeka does this.
In contrast, Charlotte Mason curricula don't look anything like school curriculum programs because they were made specifically for homeschools. (You can understand this more in the Charlotte Mason video below).
Homeschool Curriculum Mistakes
Before we look at specific curriculum options, I'd love to go through a few curriculum mistakes I see homeschool parents make. This is so important to get your head around as it will make for a way more relaxing homeschool and help  you avoid burnout!
Firstly, have a flexible routine, not a rigid schedule.
A problem with traditional curriculum programs and teachers manuals is that, if you're not willing to modify your day and the curriculum, you can feel really stressed if you feel you have to do everything in the curriculum!
And that leads me to the second mistake, and that is not letting kids go down rabbit holes.
When a child is down a rabbit hole, you know they're really learning.
And they're learning when they're down rabbit holes because they're fascinated with the subject matter at that point!
Thirdly, don't be afraid to skip material if your child knows it!
They can do something better with their time. And there's no point doing superfluous material as it embitters a child towards education.
Fourthly, make sure you don't push your child through tears when they're learning.
If it's not working, come back to the material another day, or figure out a different way to teach it.
You can figure out how to do this by identifying your child's learning method…I'll make a video on this soon, so SUBSCRIBE to the YOUTUBE CHANNEL so you don't miss out on it.
Popular Homeschool Curriculum Packages
Next we should look at some popular homeschool curriculum programs. And I'd like to show you the best curriculum for each homeschool method.
For classical curriculum, look into Memoria Press…I'm going to use this when the children start Latin when they're a bit older (all these links are in the description box below BTW)
For Charlotte Mason curriculum, look into Heart of Dakota.
For traditional curriculum which is also a little hands-on, look into BJU Press…this is the curriculum I use.
For eclectic curriculum, check out My Father's World which is a mix of a few methods.
And for Unit Studies, look into KONOS.
Conclusion
Of course, if you're feeling a little confused about the homeschool methods, WATCH THIS VIDEO. It will give you a crash course on the homeschool methods so you'll be a pro within about 8 minutes!