Ahoy there, savvy homeschoolers! If you're setting sail on a journey of homeschooling, and want to chart a course that encourages critical thinking, logic skills, and excellent language abilities, then a classical education might be your treasure map to success. Classical homeschool curriculums are a favorite among parents who value a conservative approach to education, complete with rigorous literature, theology, Latin, and critical thinking training. But with so many options out there, it can be hard to know which one to choose. So, let's hoist the anchor and explore the best classical homeschooling curriculum packages available. Trust me, with these treasure troves of knowledge, your little pirates will be well-equipped for any academic adventure that comes their way!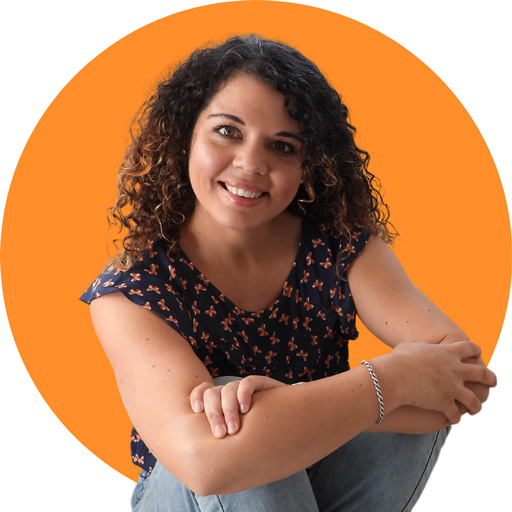 I hope you enjoy reading this blog post. If you want to do my course on how to homeschool, click here.
If you're searching for a classical homeschool curriculum program that will shiver your timbers, Veritas Press is a treasure worth considering.
This program offers online and offline options for Grades K-12th, making it a great choice for families of all ages.
What sets Veritas apart is its emphasis on classical Christian education and its fantastic video lessons.
Plus, students can socialize with other Veritas students in virtual classrooms, adding an extra layer of excitement to the homeschooling experience.
With Veritas, your children can access online lessons, interact with teachers online, and choose to do self-paced or live courses online.
It's so easy to get started – just choose the grade, customize the curriculum, and place your order to get a boxed classical education curriculum in the mail.
If you're unsure about homeschooling, Veritas offers FREE curriculum consultations to help you make the best decision for your family.
And with their strong, conservative Christian faith, Veritas offers many free resources to support your family's educational journey.
You can book a FREE consultation here.
Memoria Press is one of the best classical homeschooling curricula on the market today.
This classical program offers physical books for purchase, so you'll receive a box with the books/work paces you've chosen for your child.
This program is also probably one of the best conservative homeschool curriculum programs today and is an ideal fit for a  homeschool.
The Homeschool Review Crew gave the Memoria Press Latin program the best foreign language curriculum award in 2017.
Memoria offers an extensive range of curricula for use before children even reach Grade 1. They offer Preschool, Junior Kindergarten, and then Kindergarten and Grades 1-12.
In comparison to Veritas, Memoria offers subjects for separate purchases. That is, Veritas will send you a whole grade's worth of material, whereas Memoria will let you pick and choose more.
Memoria Press is a hardcopy curriculum; you purchase books, and they send them to you in a box.
Many parents will like the offline platform compared to the other curricula, which offer more online work.
This curriculum is also from a Christian perspective, with some writers being Southern Baptist Seminary graduates and others being from different places. You can read more about their religious background here.
Compass Classroom is a new online classical program written from a Christian worldview.
The curriculum is most suitable for classical homeschoolers in middle to high school and offers countless video lessons on almost all subjects.
Parents can either purchase courses individually for life or get a subscription to the entire platform.
A subscription means you get access to everything they have to offer including:
Latin,
Art & Music,
Economics,
Filmmaking,
History,
Homeschooling subjects,
Languages and Vocabulary,
Literature and Poetry,
Logic,
Philosophy,
Science & Creation,
Writing & Grammar,
and more!
So, you'll get everything on a subscription except mathematics.
This program is mostly true to the classical method but includes some Charlotte Mason elements.
You can try Compass Classroom on a 2-week FREE trial.

Classical Conversations is a classical curriculum designed for homeschooling families, but it is typically done in a co-op format, meaning that families come together to learn in groups for a few hours each week.
This allows children to socialize and engage in discussions and debates with their peers, which is an important part of the dialectic and rhetoric stages of classical education.
The program is offered for grades K-12, and children in the grammar stage (ages 4-8) start with the Foundations course, while those in the dialectic stage (ages 9-12) do the Essentials course, and those in the rhetoric stage (ages 12+) do the Challenge course.
The cost varies depending on the course, but overall, it is considered reasonably priced compared to other classical education homeschool curriculum programs.
One of the benefits of homeschooling with a Christian homeschool curriculum like Classical Conversations is that educators have a standard purpose for education: to glorify God through the pursuit of truth so that our children grow to reflect this excellence of Christ to this lost and broken world.
Classical Conversations also emphasizes the importance of the Christian foundation in education and has a Christ-centered approach that has proven successful in cultivating great Christian leaders throughout history.
While the program can be used as a mailable curriculum, it is designed to be used in a co-op format, with children engaging in discussions and debates with their peers to build critical thinking skills.
The curriculum is available internationally, and communities are located worldwide, including in Asia, Australia, Canada, Chile, Italy, Japan, Kenya, Malaysia, Russia, Singapore, South Africa, and the United Kingdom.
Classical Academic Press aims to teach a rigorous form of classical education as they hope to revive the liberal arts tradition in education establishments and homeschool today. They offer Latin, Greek, Writing and Rhetoric, Poetry, Literature Guides, and more.
The term 'Classical Academic Press' is googled about 2,400 times a month in the United States alone.
Cost of Classical Academic Press and Grades Offered
This classical learning homeschool curriculum offers all grades in three sections:
Lower Grammer – Pre K -Grade 3
Upper Grammar – Grade 4-6
Logic and Rhetoric – Grades 7-12
It isn't easy to figure out the cost of Classical Academic Press as they don't seem to offer a curriculum set for each grade. To get the total price of this classical curriculum, educators have to choose the book or book sets they wish children to study. Perhaps this is an intentional move to give parents the freedom to choose the subjects they like and skip the subjects they're not keen on.
Check out Classical Academic Press here.
Tapestry of Grace is an eclectic Christian curriculum that uses the classical, Charlotte Mason and Unit Studies approaches.
They cover kindergarten through twelfth grade, offering a range of subjects, including history, writing, literature, fine arts, geography, church history including missions, and Bible.
The program is organized chronologically and follows the classical Trivium stages of learning, allowing all children to learn the same subjects at the same time but at their own level.
There are four Year-Plans that progress in difficulty, and instruction and activities are divided into four levels of learning.
Students read from recommended books, and there are multi-sensory learning options to address different learning styles and interests.
TOG is available in digital or print editions, and there are free videos on the publisher's site to help understand the structure and organization.
It is a flexible program, with purposeful overlap to address developmental differences.
It aims to be wholly Christian, showing students patterns of God's personality and works in the ancient tapestry of human experience.
Well Trained Mind offers a classical Christian education homeschool curriculum.
The program was designed to help students gain a well-rounded education focused on classical Christian values and principles.
It offers curriculum options for students of all ages, including elementary, middle school, high school, and college preparatory courses.
The Well Trained Mind Homeschool Curriculum includes Bible study and faith-based topics in the core classes, as well as electives such as world religions or apologetics.
The curriculum also provides instruction in more traditional academic subjects such as math, science, and language arts to ensure students have a solid foundation of knowledge. In addition to this core content, the curriculum also provides support materials like reading lists, research projects, and writing assignments that enrich learning opportunities.
Check out A Well-Trained Mind here.
Gentle and Classical Press is a homeschool curriculum that aims to join the gentler side of Charlotte Mason's teaching with classical education.
Compared with other homeschool classical curriculum programs, this program provides a curriculum for 2-4-year-old preschoolers.
They also create programs for children up to 12 years of age.
The aim of the preschool Gentle and Classical Press program is to encourage children to learn through play.
You can get two weeks of their preschool curriculum free here.
Classical Liberal Arts Academy
The Classical Liberal Arts Academy offers maybe the best classical Catholic homeschool curriculum based on the seven liberal arts: Grammar, Reasoning, Rhetoric, Arithmetic, Geometry, Music, and Astronomy.
The curriculum follows the ancient tradition of education, focusing on cultivating wisdom and virtuous living.
The Classical Trivium encompasses language, reasoning, and communication skills, teaching proper reading, writing, and speaking.
The Classical Quadrivium emphasizes mathematics and natural sciences, covering topics such as numbers, magnitudes, ratios, and celestial bodies.
Additionally, the curriculum includes the study of Classical Philosophy, exploring rational, moral, and natural philosophy.
While Catholic theology is not strictly part of the curriculum, it is encouraged to complement the pursuit of wisdom.
This is very much a classical liberal arts homeschool curriculum that provides a comprehensive education aimed at developing well-rounded individuals and fostering a deep understanding of various subjects in alignment with the teachings of the Catholic Church.
Secular Classical Homeschool Curriculum
Although I don't know of any secular classical homeschool curriculum options, the best classical learning curriculum for secular homeschoolers would probably be either Memoria Press or Classical Academic Press.
These are not secular, but they're probably less overt on the religious front compared to other non-secular classical homeschool curriculum programs.
Other Classical Homeschool Curriculums – Eclectic and Free
Free Classical Education Curriculum
The following is a high-brow, high-IQ curriculum, which has been adopted by homeschoolers and schools. The creators of this free online curriculum have sought to address the lack of any sound online classical curriculum. Based upon the 19th-century German-Latin method and following the great-books model, this curriculum often attempts to be highbrow, emphasizing the best of occidental traditions while avoiding the anti-Western political correctness one finds in public schools. The following materials list can be used as a stand-alone curriculum or as a supplement to another curriculum. Many parents have said that this book list served as an outstanding supplement to other curricula. Our outline for classical languages, literature, and history is one of the best on the internet…The following curriculum can serve as a [secular] curriculum or a Christian [program]. While the following curriculum is non-religious per se and devoid of an explicit fundamentalist Christian worldview, it includes an implicit Christian perspective in that much of post-classical literature consists of a Christian worldview (e.g., Dante, Shakespeare, etc.)… 
But, this 'classical curriculum' seems to be more like a book list than a full classical homeschool curriculum. It also has links to CDs, video games, and flashcards.
Because you have to buy all these resources, the cost would seem to be just as high as if you were buying one of the other classical curricula above. If you could gather all these resources online or in libraries for free, your costs would be lessened. However, you would probably have difficulty getting your hands on some recommended texts.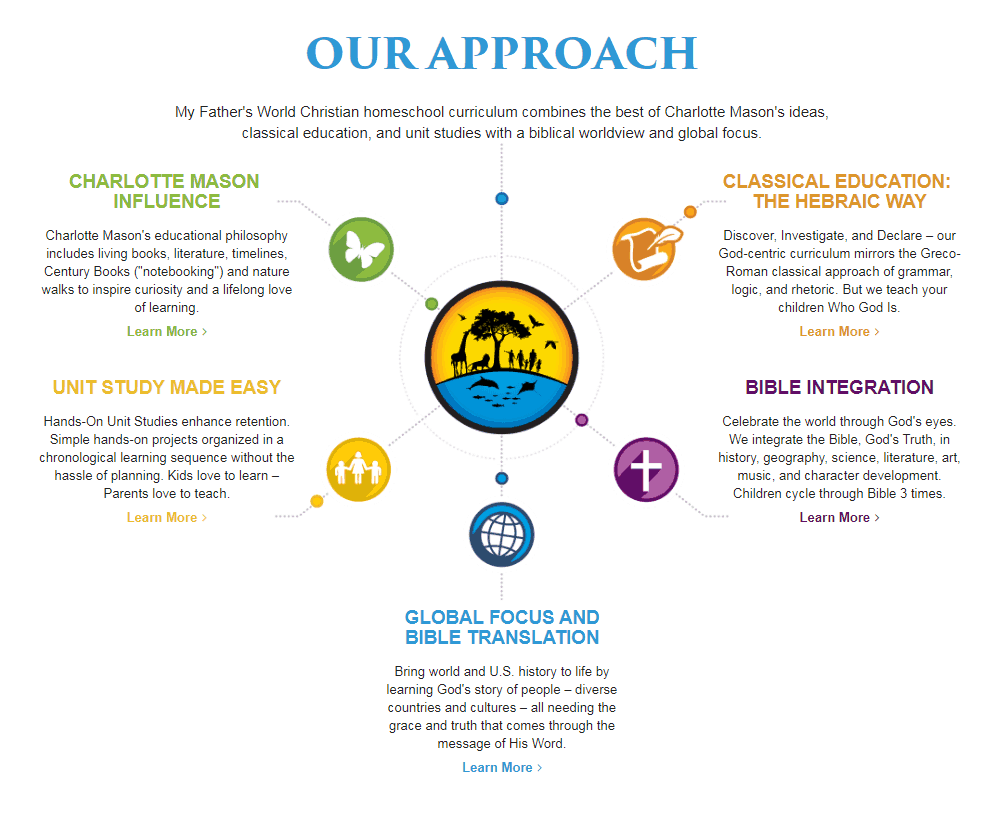 If you don't want a full-blown classical curriculum but want some of what a classical education offers plus a conservative Christian homeschool curriculum, you might consider something like My Father's World.
This program combines different homeschooling methods with a classical education. Specifically, it combines classical schooling with the Charlotte Mason elements, Unit Study, and Bible (see picture below from MFW website).
Combining classical education with Charlotte Mason methods is a popular choice among Christian homeschooling families in America.
A Program that can Supplement Your Custom Classical Education
When parents homeschool, they often don't want to commit to a boxed curriculum. However, they may like a little bit of help or access to custom classes.
This is where the Well-Trained Mind Academy comes in.
It looks like
most of the lessons with the Well-Trained Mind Academy are online, and students can interact with the teacher in real-time
. They can write things on the virtual blackboard and talk to other students also.
Because lessons are done in real-time in America, if you were a homeschooler in Australia or other countries that didn't share similar time zones, you might struggle to tune in to live lessons.
However, the Academy offers
delayed lectures
. Students can also talk to the instructors by email or virtual classrooms.
The Well-Trained Mind Academy is also fairly popular, with the term 'well-trained mind academy reviews' being googled about 40 times a month.
This curriculum sprung up as a result of the success of the book (below), which is an excellent guide if you're seeking to understand Classical education from a homeschooling parent's perspective.

What is a Classical Homeschooling Curriculum?
There are many different types of homeschooling curriculum programs available today. A classical homeschool curriculum is a program you can use to teach your children classical education at home.
A program like this will teach students in three stages:
The grammar stage – where children acquire the tools they need to learn the intricacies in the Classics later on. Children aged around 5-9 do the grammar stage. They do plenty of memorization of basic facts they will benefit from recalling later.
The logic or dialectic stage is where children sort through facts they learned and analyze them logically. Then, they start to form arguments with these facts. Children aged around 9 to 12 do the logic stage. Students do plenty of reading and 'compare & contrast' exercises. They also talk with other classical students to solidify arguments.
The rhetoric stage is where teenagers synthesize the facts they learned and analyzed in the previous two stages and learn how to apply them to their lives. Students debate and learn how to deliver a speech convincingly and persuasively.
To find out more about classical homeschooling, see this article.
Or, if you'd prefer a book, The Well-Trained Mind: A Guide to Classical Education at Home (Fourth Edition) is a popular choice. (This book is so popular that it also has its own academy (which we review below) where students can participate in unit-study.) 
If you're interested in learning more about other homeschool methods, do my free quiz and homeschool methods course here.
Classical Curriculum Homeschool: Why You Should Use One
Some benefits of a classical education curriculum are that students:
will know their facts well and relate them to principles in their lives
can express themselves eloquently with sound arguments
can write with structure and understanding
find learning the intricacies of English easier with Latin as a background language (learn the benefits of Latin and Greek here)
will be able to learn new languages with more ease as they will have learned Latin
are encouraged to think independently and critically and
acquire principles for life (instead of just acquiring facts and skills).
Classical curriculum programs are once again being implemented in many schools, especially in many homeschools today. This educational method is now widespread in America among Christian educators.
What About Other Curriculum Options?
There are so many curriculum packages on offer today. But, if you're not quite decided on the classical method, you can look at some different options below, including:
Want to Learn How to Homeschool?
There are two great ways t learn more about homeschooling: one is free, and one is a $67 fundamentals course.
The $67 Course
Looking to take your homeschooling to the next level? Join Rebecca Devitt's online Homeschool Parenting Program and learn the strategies and techniques needed to make homeschooling a success! Learn more about the HPP here and signup here.
The Free Youtube Channel
Also, make sure you join the How to Homeschool Youtube channel, which will give you a fun and exciting look into the homeschool world and help homeschool your children. Check out the channel here, and don't forget to SUBSCRIBE.
If you're not sure where to start, start with the following playlists:
You'll love it and find it helpful and entertaining! Discover the channel here.
Conclusion
Some of the best classical homeschooling curriculum programs today include Classical Conversations, Veritas Press, Memoria Press, and Classical Academic Press. To recap, Classical Conversations is a program usually done in a co-op near you. Veritas Press is a curriculum you can do online and by material mailed to you. Memoria Press dispatches your chosen classical homeschool curriculum to your door (you can mix and match subjects yourself). And Classical Academic Press allows you to customize your curriculum also. There is also the option of doing classical Unit Studies with The Well-Trained Mind Academy or getting a free classical homeschool curriculum (although purchasing the books is not free). These curricula are slightly different, so you can look through them closely to see which works best for your family. But I love that all the programs are fairly conservative homeschool curriculum options for doing battle in an unconservative world!